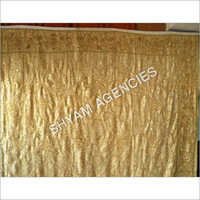 Golden Zardosi Wedding Backdrop
Product Description
Widely known in the market for manufacturing and exporting Golden Zardosi Wedding Backdrop. This backdrop is made using best quality fabrics and embellishments. This backdrop is installed in various weddings by our clients, in order to increase the aura of the place. While stitching and crafting this wedding backdrop, we make sure that these are made according to the latest fashions and traditional art. This Golden Zardosi Wedding Backdrop is a zardosi made craft which is widely acclaimed in the international market.
Features:
Excellent finish
Stunning appearance
Everlasting lustre

Further details:

Golden Zardosi Backdrops
We offer a perfectly sewed with gold gamut of White Gold Zardoshi Backdrops to our clients which suits and matches with their required style and look. As the name suggests, these backdrops are of golden color giving a pure gold look at the background of the stage. This helps in giving a completely unique look to the wedding ceremonies. The range is rendered to fulfill the individual tastes of our respected patrons. Adding charm to the ambiance, these heavily embroidered Golden Zardosi Backdrops are made available at market best prices by us.
As the name litteraly means " sewing with gold" you can be sure these exquisitely detailed back drop, with heavey embroidered detailing will leave guest mesmerized
Back drop comes with velcro trip sewn on making it easy add any combination
Size
Height: 8ft
Width: 10ft